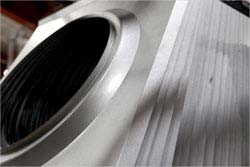 Another outsourcing service provided by SG Eco is Sheet Metal Fabrication including Metal Stamping. Whether the process is as simple as cutting down metal sheets, or something more complex, SG Eco can provide this service. With machinery such as guillotines, press brakes, inclinable presses, rollers, spot welders, elbow machines, hydraulic presses and a CNC router, we have the ability to fabricate just about anything out of sheet metal.
SG Eco stock the following sheetmetal for production:
0.45mm Stainless Steel - 430 Grade - Bright Annealed
0.55mm Bluescope Zincalume
0.75mm Bluescope Zincalume
0.40mm Bluescope Colorbond "Surfmist"
0.55mm Bluescope Colorbond "Nightsky"
0.50mm Alanod Miro Silver Aluminum
1.00mm Aluminum - Grade 5005 H31
0.40mm Aluminum - Grade 3003 "White"
We can source other materials for custom fabrication purposes if required.