VENTILATOR DUCTING KITS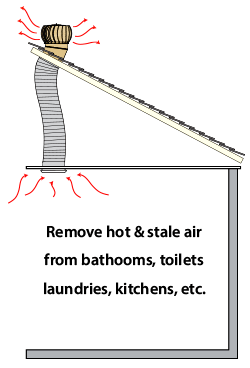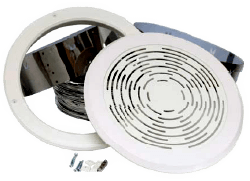 Ducting Kit includes Ceiling Trim, Venting Diffuser,
Flexi-tube, Collars & Fixings.
FEATURES & BENEFITS
Improved indoor air quality – proper ventilation provides an environmentally friendly indoor space which lessens the chance of family health problems and provides a fresher smelling bathroom.
Reduce future maintenance expenses – ignoring the harmful effects of too much humidity in a bathroom can cause mold, mildew and deterioration of ceilings, walls, doors, fixtures and cabinetry.
Helps stop mirrors from fogging up – it's a nuisance having to wipe your mirror after taking a shower – proper ventilation will lessen this problem.
Easy to Clean - the ceiling grill fixes magnetically, so it's easy to remove for cleaning.
Save money - No running costs.
Easily installion - No structural alterations needed.
DESIGNED TO FIT THE FOLLOWING SG ECO INDUSTRIES VENTILATORS

300mm dia Ducting Kit suits
Whirlwind

300mm dia Ducting Kit suits
15W Green-vent Solar

350mm dia Ducting Kit suits
30W Green-vent Solar